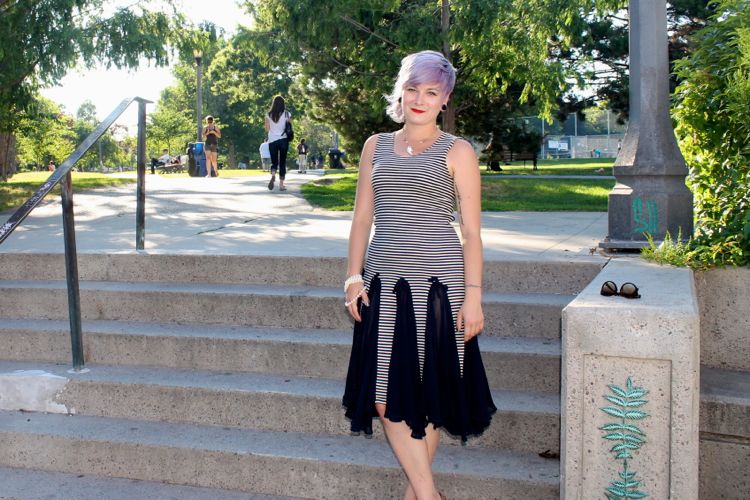 This Parisian-inspired ensemble is probably a little more than a trip to the health food store and late afternoon coffee date warranted. But, after spending 7 hours in bed in my pyjamas, productively banging away on my keyboard, I needed something a little special to save my day from the mundane. I always get into a funk when I spend too many days cooped up wearing comfy basics. Although, sometimes it feels like an inevitable part of finishing big projects.
Pulling from my favourite eras and subcultures to create looks that suit my mood and occasion is an important part of how I express myself.  I like the that an outfit can turn heads, start a conversation, make a statement. And, for me, putting that extra effort into the little details of an outfit, makes my whole day a little bit more special. So, to avoid a case of the doldrums, here's the outfit I put together for an afternoon pick-me-up in the park…
dress: vintage axiom // shoes: aldo // necklace: etsy // bracelet: thrifted // sunglasses: used house of vintage
This might be the perfect summer dress. It's oh-so chic, yet the stretchy knit fabric is perfectly comfortable and breezy for sunny days in the park. The chiffon inserts show an almost-scandalous amount of leg and they billow dreamily in the wind. Elyse was right when she said that it's perfect for sashaying down the streets of Paris. But for now, I'm happy to just add a little bit of Parisian glamour to my everyday life.
Do you prefer to spend most days kicking it casual or dressing up a little bit? What was your favourite outfit you wore this week?
I always get a big surge of hits on days that I do outfit posts. So, thank you for stopping by! I'm glad you like taking a peek into my closet. ;)
xoxo
S.
P.S. Photography by the one, the only, the incredible… Elyse Moland.
Also, I'm linked up with The Pleated Poppy…