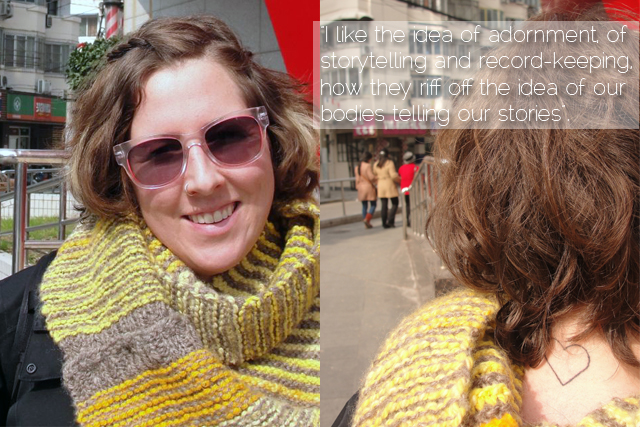 I'm so excited to introduce you to Julie Kesti, who is sharing her tattoos with us today…
Julie Kesti, 35, Artist, Blogger, Shiatsu Massage Therapist
What is the story behind your favourite tattoo?
My tattoo was done by Tom Alvarado at Leviticus Tattoo on East Lake Street in Minneapolis, Minnesota, US, in the summer of 2010.
The tattoo is a colorful snake in memory of my nephew, Matthew, who died at the age of 9 in 2008.  It's meant to keep his brightness close to me.  It includes line of a poem he wrote: "Natural to have fun." The snake references a silly song he introduced me to, about a snake who steals your root beer.  Matthew was always good at sneaking off for a solo rootbeer when we'd spend time at my parents house. We'd find empty cans hidden by the swingset or in a cupboard in the basement.  The snake style was inspired by a snake in an Eric Carle children's book, which I came across when we collected children's book for a local library on Matthew's birthday that summer.  I chose Tom as the tattoo artist because a check-out girl at the food co-op had a tattoo by him that also had a similar children's book look.
What other tattoos do you have?
I only have one other tattoo, which I got last October, also at Leviticus.  I had been home visiting for a couple months, and was getting ready to return to Shanghai, where I've been living for the past year.  I wanted to give myself a reminder that love's got my back, and to remember all my beloved people and places from home are along with me.  I can't see it with my own eyes, which is odd, but also sorta symbolic.
Do you plan to get anymore tattoos in the future?
Yes, I'm sure I will. No specific plans at the moment
What appeals to you about tattoos and tattoo culture? Is there anything about tattoo culture that you find off-putting?
I like the idea of adornment, of storytelling and record-keeping, how they riff off the idea of our bodies telling our stories.  I like the surprise when you notice them on other people for the first time.
Certain tattoos might be off-putting to me, but that is the same with any visual image – it's not specific to tattoos!
Do many of your friends and families have tattoos? Have you received any adverse reactions due to your decision to be tattooed?
I have a lot of friends with tattoos, only a couple family members.  Adverse reactions are mainly just people who don't like tattoos in general, so I wouldn't expect those people to like mine either.
It's interesting here in Shanghai – tattoos are around, but are a newer thing, so mostly among younger folks at this point. I think a tattoo can be more surprising to people here (and probably moreso on a woman than a man.)  However the fact that I have a snake is also interesting, because the snake is part of the Chinese Zodiac. Even if people don't know much English, they often say, "Snake!"  Here it is common to ask people, instead of their age, what zodiac animal they are.  So if the person is a snake they will point to themselves while saying it.  Coincidentally (or is it?) I am also a snake, so we usually bond over that.  (And this new lunar year is now the Year of the Snake, so I'm expecting great things!)
When I went home to visit last summer the feeling of "I'm back among tattooed people!" was palpable. :-)
Who are your favourite tattoo artists?
I don't really know….I've had great experiences at Leviticus, but there are lots of great shops in Minneapolis.
Do you have advice for anyone interested in getting their first tattoo?
I'd maybe say getting a tattoo on an often exposed part of your body at the height of summer isn't the best idea–you want to avoid swimming in the early days, and sun – that was not ideal.
Don't Google too much about after-care.  It's probably my personality to do so, but I had way too many opinions on that, which was more stressful than helpful.  I ended up using mainly shea butter and similar products, as opposed to petroleum-based products on my big tattoo.  On my little heart I used aquafor because I was going to be traveling while it healed and felt like the back of my neck was fairly exposed to airplane seats, etc.
Lastly, I hadn't really thought a lot about the interactions that follow when you include words. People are going to read you and ask you about them more directly than they do about an image. Not that I'd change my tattoo, but it can be awkward when people are like, "Oh cute snake!" or "Who's Matthew, your husband?" and then I (usually) end up explaining it is in memory of my nephew who died so young.  I don't mind talking about his wonderful self at all, but sometimes I've responded to questions more gracefully than others. (And I think it's funny how many people assume I'd have my husband's name on my forearm. Hmmmm…)
Thanks so much, Julie! And be sure to check out her blog, like her on Facebook, and follow her on Twitter to keep up with all of her amazing 
Any new tattoos out there? I'd love to hear! My appointment for my sleeve had to be postponed due to weather, but I've rescheduled for the day after my birthday and I'm super excited!
xx S.