I fell in love with Rebecca Vincent's whimsical tattoos after seeing them featured in the most recent issue of Things & Ink. Today she's sharing a little bit about how she got started tattooing and what inspires her work.
Rebecca Vincent, 29, Leeds (Nostalgia)/London (The Circle Tattoo)
How old were you when you were first tattooed and what was it?
I was 20 when I got my first tattoo. It was a dragon fly, which I have since covered.
What was the first tattoo you made?
I was 28 when I first tattooed. It was the word 'fuck' and two lightening bolts on my husband.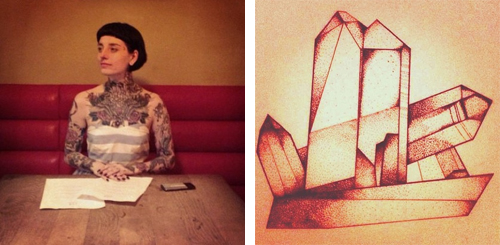 How did you get started in tattooing?
After I had my daughter a friend suggested that I should do it. At first I found it ridiculous as I hadn't drawn much before but after thinking about it for a while, I got really into the idea. I started to draw all the time. However, I was trying to draw tattoo imagery and I didn't like my results. Although most of my tattoos are traditional in style, my designs were boring and run of the mill. A friend gave me a book on Victorian art and my creative mind exploded. I began drawing animal skulls and body parts and other obscure objects. I used pens instead of paint and was completely engulfed in a new way of expressing myself. I realised that tattoos are the result of an individual's artistic flare.
I started working for Nostalgia last summer, based on these new drawings.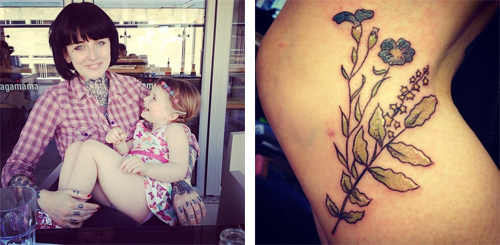 How would you define your aesthetic? 
Dotty? Black? I am not sure what genre to give it. Illustrative? Nope. No idea.
What influences your work?
Many different things. The big one is natural history. Anything science related. Museums are my most favourite places. Our house is full of books about geology or paleontology.
I do this job for my daughter. I want her to be proud of me and see that no matter what is happening in your life, if you apply yourself, you can do anything.

Thank you so much, Rebecca! Be sure to check out her portfolio on Tumblr and like her Facebook page.
Do you have any questions for Rebecca? Is there anyone you'd like to see featured in a future Tattoo Talk interview?
P.S. Don't forget to check out The Self-Love Book Club. You can enter everyday until Friday to win a copy of Red, Hot, & Holy by Sera Beak.