How long have you been tattooing? 4 years
How old were you when got your first tattoo & what was it?
I was 19 when I got my first tattoo and it was just a little black star on the back of my neck. I guess I kind of just wanted to test the water a little. As soon as I had it done, I wanted another. It was a great first tattoo experience.
How did you get started in tattooing?
I've always drawn since I was little but was never sure it would be part of a career. I went to university, quit after the first year and ended up working in a pub. I got the chance to meet a few of the local tattooists through this job and eventually got a job on reception at Bodycraft Tattoo Studio in Nottingham, I did that for a good 6 years before being offered an apprenticeship at Modern Body Art in Birmingham. It was great and I'm extremely grateful to Matt Hunt for being my mentor. I eventually ended up back in Nottingham for a couple years and recently have opened a shop with some friends in Derby. It's been a huge roller coaster of an experience but I'm glad I took my time and did things the right way. Patience helped a lot!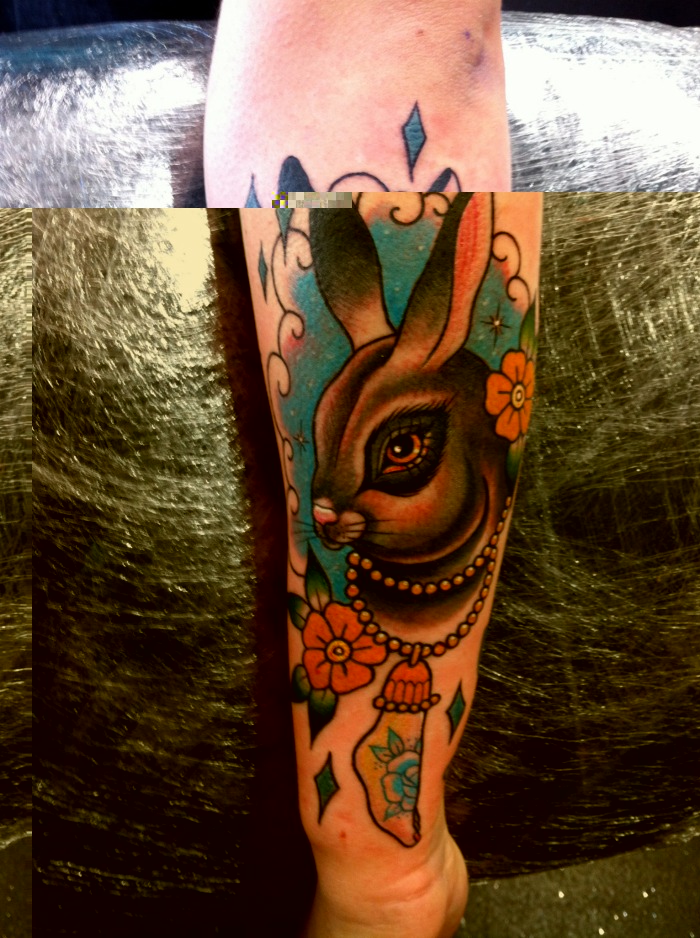 Did you have an artistic background before you started tattooing?
I always enjoyed art but never pursued it at school. It was more something I did with all my spare time.
How have your thoughts about tattoos and being tattooed changed over time (if at all)?
Not really, although I suppose becoming a tattooist has made me think a little differently. Every time I get tattooed now I think about the fact that I do the same to customers everyday. I think it reminds me to be a little more sympathetic. It's always interesting to see tattoo trends come and go. I was around the industry 10 years ago and there were styles about then that aren't as popular now. I myself had a large tribal piece covered recently. I think it's always been about the customer though and what they want and doing the best job you can for them, I don't think that should ever change.
How would you describe your aesthetic?
To do the best job you can, to be honest in advising customers, if there's someone else who can do a lot better or their idea isn't going to translate well as a tattoo it's the tattooists job to tell them that. Honesty and also appreciating that one small tattoo can be just important as a large custom piece. Your customers are the people paying you and I've seen tattooists forget that.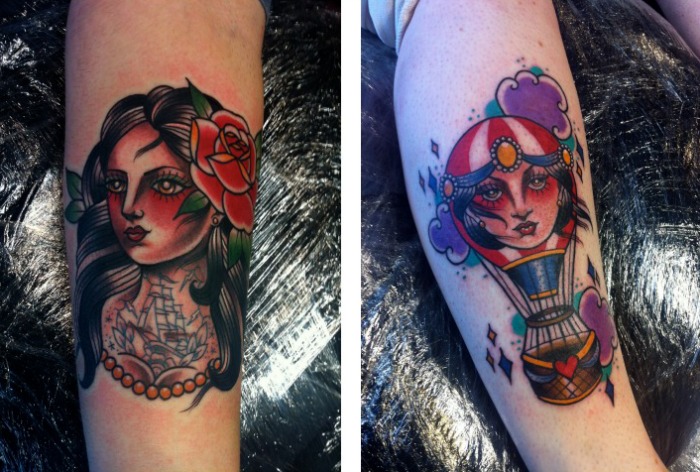 Who or what influences your work?
In terms of other tattooists, people like Valerie Vargas who I get a lot of work done by myself, I have a massive respect for her work and also her attitude as a tattooist. Also people like Guen Douglas, Alix Ge, Justin Hartman, there are so many! When I'm drawing though I tend not to look at other tattoos and find reference in other places, old photos, vintage magazines, just anywhere that will allow me to do my own take on an idea. It's very hard to find an idea that hasn't been done or a picture that hasn't been referenced by someone else but I'm always on the look out.
What advice would you give someone who wants to start tattooing?
Be patient! Apprenticeships shouldn't just be handed out, they are hard work and they're like that so only the most dedicated people will make it through them. I never tattooed from home and waited a long time before I got an apprenticeship, I used this time to draw and listen to any advice that came my way. Just because the first shop you ask won't give you an apprenticeship, don't give up and don't just go buy the first kit you find on Ebay. Just keep drawing, show some respect and if you're dedicated and lucky you'll earn it.
Thank you so much, Vicky!
If you want to see more of Vicky's beautiful work, be sure to follow her on Instagram. And as usual, if there's someone you'd like to see featured on Tattoo Talk or if you're interested in sharing your own collection, please let me know!