I've been reading Laura's blog, Roots & Feathers for many years now and have always admired the artwork she wears on her body. Today she's sharing some of her own journey as a tattooed person and thoughts on the difficulties of releasing creative control over the designs that mark her skin forever. 
Laura Mazurek, 31, Jewelry Artist / Designer
How old were you when you got your first tattoo? What was it? 
18 and sadly it was the typical "tribal tramp stamp" as they commonly call it.
How many tattoos do you have now?
3 if I call my half sleeve as one tattoo… otherwise, 9.
What are your thoughts on tattoo regret? Have you ever had any?
Yes, I have had tattoo regret a few times actually. But at the same time, I see it as a part of my history and my journey, so it doesn't bother me too much. Although I would advise to wait to get tattoos until you are bit older and more solid in your heart of hearts on what moves you.
Do you think tattoos need to have a special meaning or can they be purely aesthetic? 
I think its up to the individual. I'd rather have my tattoos have meaning, but I see nothing wrong with getting artwork simply because it is beautiful.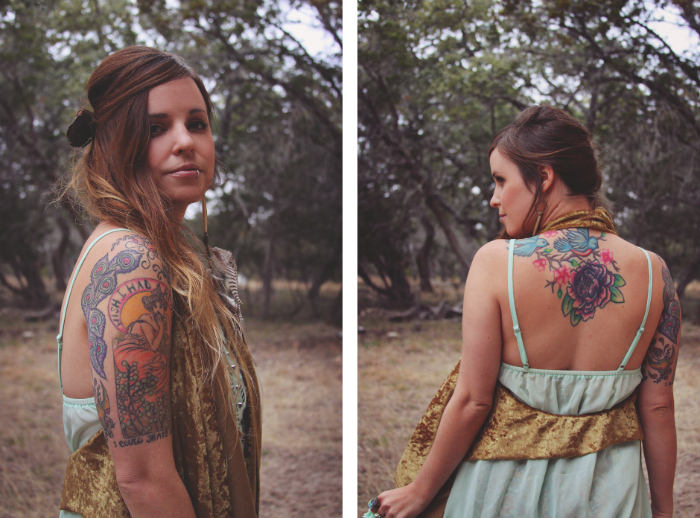 Do you have a favourite tattoo? What's the story behind it?
My favorite tattoo is my two bluebirds on my back.  I got it right after my mom beat cancer the first time, and after a huge breakup loss in my own life.  It represented a lot of deep emotions for me at the time, and will always remind me of our ability to overcome life's hardships and find the happiness in it.  And now that my mother is no longer here with us because she lost her second battle to cancer, the two bluebirds together always reminds me of her and I flying side by side, and that she is always with me in some way.
As a designer and artist yourself, did you play a role in designing your tattoos? Was it difficult leaving the final design in the hands of your tattooist?
For most of my tattoos I came to the table with a sketch or a basic idea and from there let my tattooist, Brian Johnson from Austin, take over from there.  It was hard for me to release some of the artistic vision to someone else.; it's always a gamble. For most of them, I think they came out much better than I would have designed myself, and a few I wish I would of been a bit more pro-active with the choices of color and detail. Tattoos are a tricky thing because they are so permanent, and we are such evolving creatures by nature… so what you love today may not be what you love so much in 5 years. Coming from a deep place of authenticity in your heart when it comes to choosing what you want to be on your body for the rest of your life is a huge part of it, at least for me. But always, I believe, to each their own.
Thank you so much, Laura! Your tattoos are so beautiful and after seeing them in your photographs over the years, it's nice to hear more about them and your thoughts on being a tattooed person. 
In addition to subscribing to her blog, you can also follow Laura on Facebook and Twitter.