Ebba Cronstedt, 30, Illustratior at Bara Ebba, Shop Manager at Catapult Tattoo
Ebba's friend Helen introduced me to Ebba and recommended her for this week's Tattoo Talk interview. I'm so glad she did because not only is Ebba an amazing illustrator with a beautiful collection of tattoos, she has an insider's perspective from working in the tattoo industry.
How old were you when you got your first tattoo? What was it?
I was 15 years old, without a clue about either my own taste, or quality of tattoos, a lot of mistakes that I had to pay for, and still do.Cover ups, lasering and such. But now I'm close to being covered in quality work I am really proud of.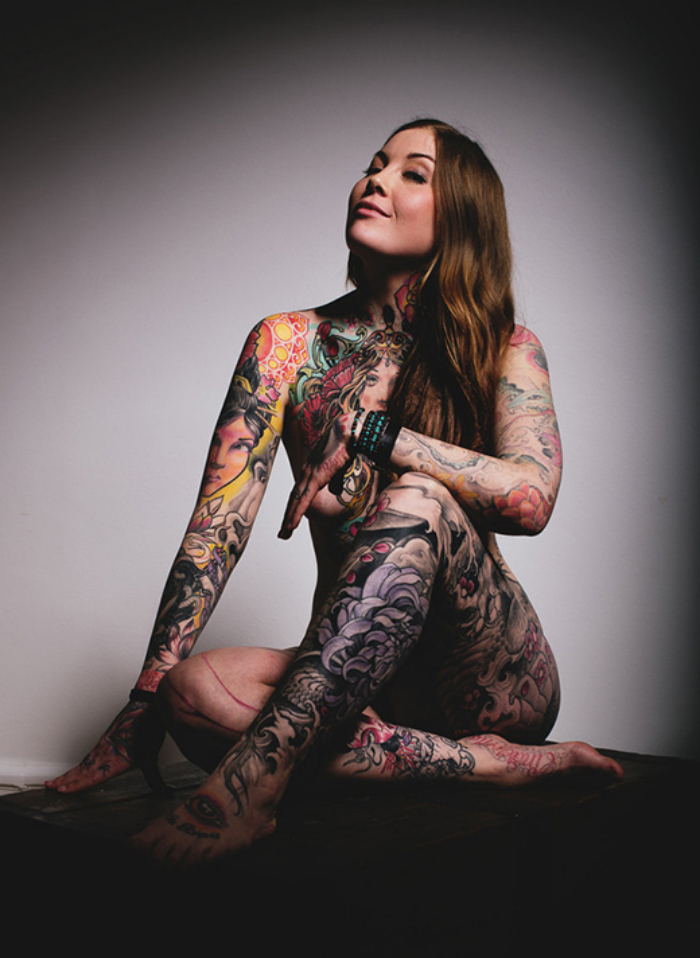 Do you think people perceive you differently because of your tattoos?
I use to say that about 10 years ago, people liked me despite of my tattoos, and now they like me because of them. But, there are still prejudices, both degrading and glorifying. Not many people think that I am the sober (have not been drinking in 15 years, that makes me sound SO old haha), stay at home reading books at Saturday night, calm and in many eyes: boring person I am. Though I myself find myself hilarious, and have always been very good at enjoying my own company. I just prefer books, painting and writing instead of partying. Tattooed people can be quite human, and kind, and if we smile, some of us really mean it ;)
How did you get started working in the tattoo industry?
It started out with me hanging around at conventions, getting contacts. Then working with tattoo magazines and tattoo conventions.  Then, as the organising type, I ended up working at studios as a shop manager with my focus on promotion and such. I love that kind of work!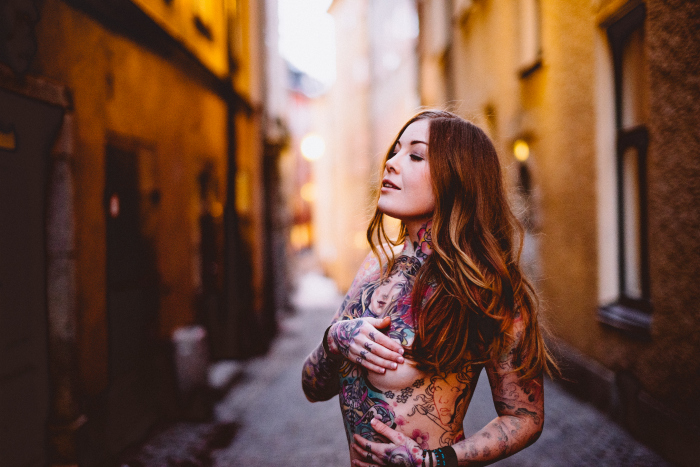 What is your role at the studio?
I am the shop manager, so I am the one that the customers meet first when they come here. I have the consultations, through all the details of what they want and how to make it the best tattoo possible. I aim to create the best environment, both for the artists and customers, where creativity and inspiration can meet good customer service.  I also try to wash away many prejudice about the industry. When you open the door to Catapult Tattoo,  I will get up and greet you. I will ask how I can help and if you prefer coffee or tea, and then we'll sit down and talk everything through. A calm and professional place.
What are your thoughts on tattoo regret? Have you ever had any?
As I mentioned before, a few regrets yes haha. But that was about quality. All the tattooed made after I was 19-20, when I had a better view of the industry and new about styles and all the great artists out there, them I love.
Do you have a favourite tattoo? What's the story behind it?

My story is mainly my love of art. I love my chest piece that is influenced by a bust of Alphonse Mucha. I love my japanese leg as well, the dragon that goes from my foot to my stomach.
Are there any artists you're yearning to get work from?
Oh, with less and less good or big areas left to tattoo, you tent to get really picky.  I would love to have a Jeff Gouge-piece, or maybe something from Claire Reed, this British girl  who's located in Australia now, so not really around the corner from Sweden ;)  I don't have that much space left, but have a been lasering my whole left sleeve, so that will get new work in the future. I look forward to the result, but I DO hate getting tattooed haha.
Thank you, Ebba! To see more of Ebba's illustration work, be sure to visit her on Facebook and Instagram.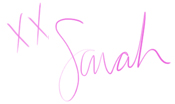 Photographs by Alexander Koste