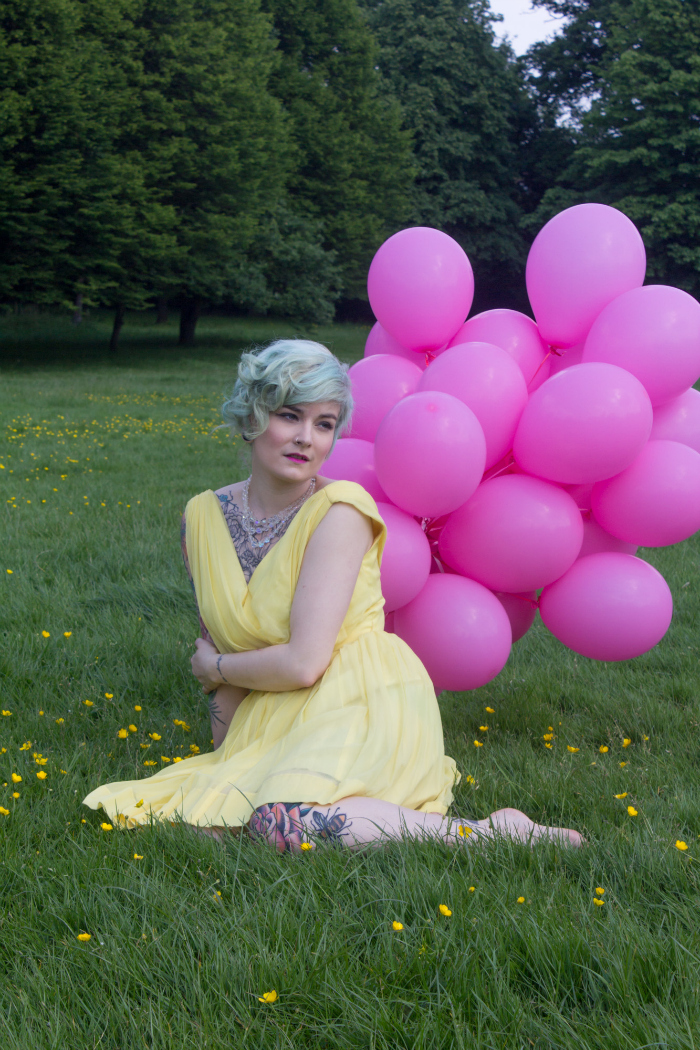 Katherine and I always have so much fun when we take photographs together and ever since she first snapped some head shots for me, we've been scheming to do something a little bit more stylized. As luck would have it, her photography class is currently studying portraits and an upcoming assignment required taking photos inspired by celebrity features in glossy tabloids. So, our plan of borrowing inspiration from an Audrey Hepburn photograph was a perfect fit.
We ordered a helium tank and 30 balloons from Amazon and last Sunday made our way to Katherine's suggested location of Horniman Museum and Gardens. I'd never heard of the museum before, but as you'll see, the grounds are absolutely gorgeous and offer a stunning view of the city. I didn't make it into the museum itself, but it houses a collection of curiosities owned by a Victorian man named Frederick John Horniman. I can't wait to go back and check out all of the treasures that are hidden inside.
It was my first time wearing this beautiful 1960s dress that I bought from Emma Deer's old Etsy shop last summer. I tried to maintain the vintage feel by styling the front of my hair in soft curls and pinning the rest of it up in a roll.
I had so much fun frolicking around the gardens with my giant bouquet of balloons (I was the envy of every little girl we passed!) and I'm so pleased with how the photos came out. Take a look…
I'm wearing a vintage chiffon dress from the 1960s, a pink belt from Ardene, purple shoes from Principles by Ben de Lisi, which I later swapped out for vintage snakeskin heels from the 1950s, and a vintage beaded necklace.
I absolutely love vintage clothing. The nipped in waists and full skirts of 1950s dresses is my absolute favourite silhouette. But I don't like being too literal with my vintage looks. Don't be afraid to mix clothing from different eras to create a style that's truly your own. Modern jewellery or an edgy hairstyle with a classic party dress might seem unexpected, but that's what makes an ensemble beautiful and interesting. Here I like that a bright belt and hot pink lipstick add a modern flair to my outfit, which ties in with my tattoos and pastel hair.
Katherine's sharing some more photos from our shoot on her blog today, so hop over there if you'd like to take a peek.
Is there an Old Hollywood photograph you'd like to put a modern spin on? I had so much fun modelling for this shoot, that I'm really hoping to do something stylized like this again soon.
Love, pin curls, & balloon bouquets,