London is full of the weird and the wonderful, so I shouldn't be surprised that I spent the Sunday afternoon after Halloween in a military safe zone trying to survive the zombie apocalypse.
Backyard Cinema started as a homemade cinema project that has grown into large themed events complete with immersive theatre and over-the-top sets for a film experience unlike any other. So when Sarah invited me to join her at the Apocalypse show for a screening of Shaun of the Dead, I happily said yes, even though I seriously doubted my ability to outrun a zombie.
We met outside a warehouse in Hackney Wick, where we were debriefed by a rather surly sergeant (whom we quickly befriended) before heading into the decontamination room and through to Cyba Corp Headquarters.
Inside we sipped Zombie Antidote cocktails, learned a bit about the 'situation,' checked out some very alarming zombie experiments, and then settled in to watch the film.
I don't want to give too much away, but here are a few photographs to wet your whistle.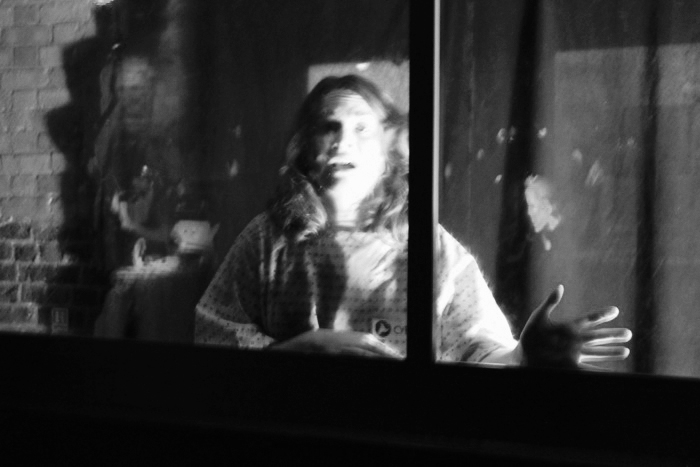 This was such a fun way to spend the afternoon! We spent lots of time laughing and also feeling rather tense about whether a zombie was about to jump out at us at any minute. And to both of our surprise: we survived!
The Apocalypse show is on until 9 November and they're screening a variety of zombie films during that time. I'd highly recommend checking it out.
If you'd like to see more of the action, check out Sarah's post with the YouTube video she put together.
Have you been to Backyard Cinema? What's your favourite zombie film? And perhaps most importantly: how did you celebrate Halloween?
I watched Rocky Horror Picture Show with some of my co-workers and taught a bunch of strangers how to do the Time Warp.
Love, fake blood, & silly dance moves,