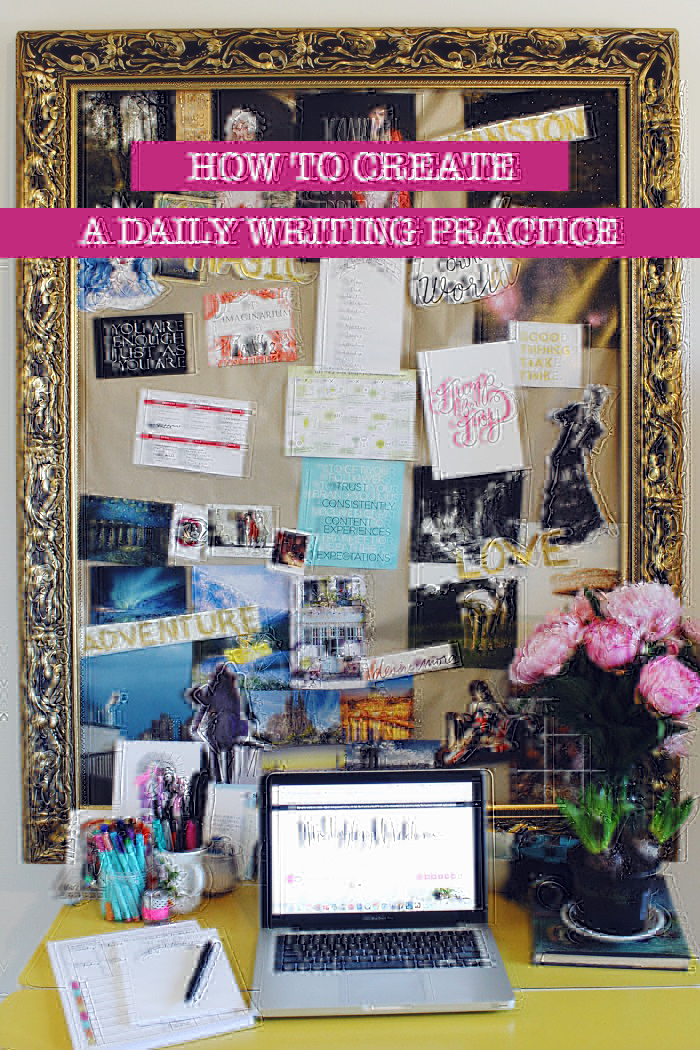 "This is the other secret that real artists know and wannabe writers don't. When we sit down each day and do our work, power concentrates around us. The Muse takes note of our dedication. She approves. We have earned favor in her sight. When we sit down and work, we become like a magnetized rod that attracts iron filings. Ideas come. Insights accrete." – Steven Pressfield
I really enjoyed sharing my tips for budding writers and I was glad to hear that many of you found them helpful.
It can feel daunting – this dream of becoming a writer. But like with anything, the trick is to just start and then keep at it.
If you want to be inspired, have better ideas, improve your writing, or "find" your voice, you need to write everyday.
It really is that simple.
There's no magic formula or course you can take that will make you a writer. Of course reading a lot, learning the tricks of the trade, and getting critical feedback will push you further. But the simple act of writing day in and day out is how you'll finish your projects. It's what will make you a writer.
Creating a daily writing practice is what's allowed me to amp up this blog, create my ecourse, and get back on track with finishing my ebook. If you're setting out to create your own daily writing practice, here are my suggestions.
Choose a project.
Rather than facing a completely blank screen, set yourself a task. Participants in NaNoWriMo challenge themselves to write a novel in a month. Perhaps you want to do morning pages to get the creative juices flowing, write a magazine article each week, or try your hand at poetry. Knowing what you've set out to accomplish will help keep you motivated.
Carve out time.
For me, I've set aside 30 minutes each day to work on my ebook – which is in addition to all of the other writing I do. Depending on your project, you might want to set yourself a daily word or page count. But it's essential to figure out where this time will fit into your day. Consistency is key.
Determine the where.
I'm happiest writing at my desk or curled up in my favourite café. Either way, a mug of tea is always close at hand. I've learned to write wherever I am, whether it's typing away over my lunch break or stealing some time to work between finishing work and meeting up with friends because that's what it takes. But as much as possible, I write where I feel most inspired. Xandra feels most like a writer in coffee shops and Rebecca wrote most of her book in the rose garden near her house. Where do you feel most writerly? And if the sidewalk cafes of Paris are calling you but you're bound to the practicality of life amidst the 9-5, figure out how you can infuse a bit of Parisian chic into your writing routine – buy a croissant to nibble while you type or wear your favourite beret as you scribble.
Create a ritual.
Steven Pressfield recites a prayer from Odysseus before he sits down to write. When I'm at my desk, I smudge myself with sage and light a candle. These rituals bring a sense of intention to the writing practice. They note a beginning and mark the time as sacred. Your ritual might be as simple as disconnecting the WiFi to get rid of distractions, but I encourage you to find something that brings purpose to your practice.
I'd love to know: do you have any thoughts on starting a daily writing practice? What projects are you working on right now?
Love, clattering typewriters, & ink-stained fingers,