Jamie Dee, 34, Web Specialist, Blogger, & Marketing Manager for Tattoo Hero in Sault Ste. Marie, Ontario, Canada
The tagline of Jamie's blog Wolf N Whisky is 'Weird, Wild, & Wonderful' and that's exactly what I love about it. She posts fantastic travel reviews that will take you off the beaten track, introduces readers to interesting bands through her music reviews, and with her keen eye for design, she shares interesting insights into alternative art and culture. And if you've ever seen a photo of Jamie, it's hard to miss her beautiful collection of tattoos. Today she's going to tell us a bit about them.
How old were you when you got your first tattoo? What was it?
I was 20 when I got my first tattoo, a late bloomer in comparison to my friends. In high school, it was a rite of passage to go and get something done when you turned 18, I decided not to at the time because I wasn't 100% certain of what I wanted. Funnily enough, of that group I'm now the most heavily tattooed of all of us. My first tattoo was the Auryn (an ouroboros talisman) from the Neverending Story. Super fantasy-geeky, it was always one of my favourite books & films as a child.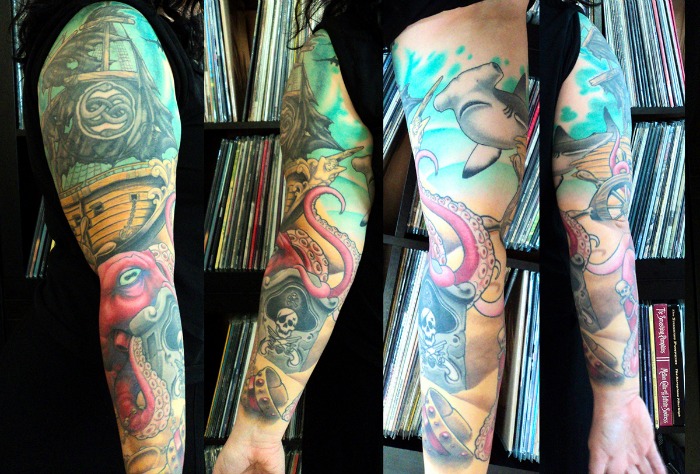 How many tattoos do you have now?
I have several large pieces and a full sleeve, currently I have:
LEFT ARM: A 3/4 sleeve of Ozma of Oz by Mo Coppoletta of the Family Business in London, UK.
RIGHT ARM: Underwater Octopus/Pirate sleeve by Ben Ackerman of Tattoos By Ben in Toronto, Canada. The sleeve is covering up some older work and incorporating an Adam Ant Jolly Roger tattoo by Dave Bryant of Lifetime Tattoo in Derby, UK.
LOWER BACK: Large floral Art Nouveau piece by Patrick Cornolo of Speakeasy Custom Tattoo in Chicago, USA,
CHEST: Black & red nautical stars (soon to be covered up!)
RIGHT LEG: A 'Cattoo' by Jessica Purplekid, and a Moon Phase Lady by Hilary Jane Petersen both of Tatouage Royal in Montreal, Canada.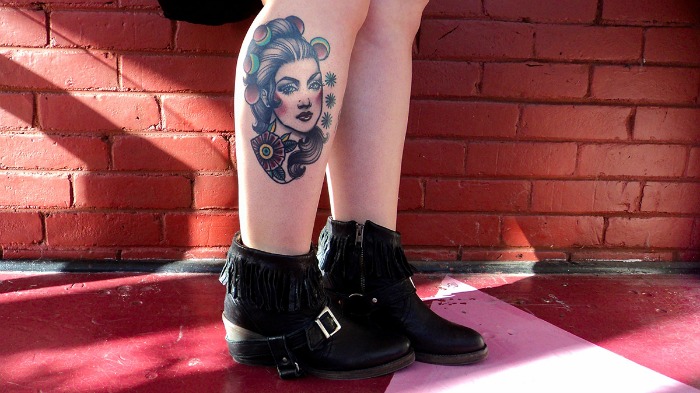 What are your thoughts on tattoo regret? Have you ever had any?
I think tattoo regret can happen if you're impulsive, or if you don't do your research and find the right artist for you.
To be totally honest, I have experienced tattoo regret. Normally I'm very thoughtful in what I get tattooed. I set myself a minimum of a year to think over an idea before actually getting it done. The only piece I never did this for, are the nautical stars on my chest. It's not even the ubiquitousness of the design, it's that they're really not me. That's the only tattoo regret I've ever had, every other piece I adore and it's because I really thought them through first.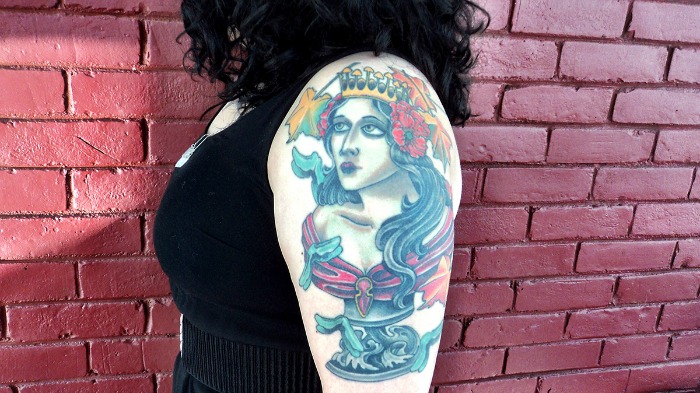 Do you think tattoos need to have a special meaning or can they be purely aesthetic?
I believe they can be both, it's really up to the individual. Mine are definitely a mix of this. Some have deep meaning, others less so, some simply because they're beautiful. And meaning can come after the fact. I may have had something tattooed without intention behind it at the time other than desiring beautiful art on me, but later on am reminded of a certain time or place. Tattoos end up taking on meaning, they're highly symbolic of a personal history, your life story.
Do you have a favourite tattoo? What's the story behind it?
Oooh man, that's a tough one, but probably my Ozma tattoo. A lot of my tattoos draw upon my childhood, (even my pirate sleeve, is a direct result of my obsession with the Goonies growing up & the Pirates of the Caribbean ride at Disneyworld). I adored the Oz books by L. Frank Baum, such incredible stories and wonderful characters, my favourite being Princess Ozma. I was finishing up University in the UK and it seemed like the perfect way to celebrate completing my theatre degree, as well as a way to commemorate and take a little bit of those magic times with me. I loved getting tattooed at the Family Business and wandering around Angel Islington afterwards with a cup of coffee, always trying to miss rush hour on the tube. It's funny how things can take on so much meaning, I look at my Ozma tattoo now and there's a rush of so many wonderful memories that are now tied to this visual trigger on my arm. It's really lovely.
Are there any artists you're yearning to get work from?
A countless number! Working with Tattoo Hero is a double-edged sword, I'm exposed constantly to the most incredible tattoo artists around the world.
Off the top of my head, currently would love to get work from: Cody Eich, Rose Hardy, Emily Rose Murray, Erin Chance, Alix Ge, Eilo Martin, Robert Borbas, and the list goes on and on.
If you want to keep up with all of the weird, wild, and wonderful things Jamie gets up to, be sure to follow her on Facebook, Twitter, and Instagram.
Love, studded bangles, & vintage combat boots,