"And above all, watch with glittering eyes the whole world around you because the greatest secrets are always hidden in the most unlikely places. Those who don't believe in magic will never find it." -Roald Dahl
Our lives become more magical not from purchasing luxury goods or even from overhauling our routines, but from taking time to savour all of life's small joys and living in awe of all the wondrous things happening around us. That being said, I think there are many things we can do to live more magically. Seek out silliness. Inject delight into your day. Infuse your routine with merriment. Take time to make the world more beautiful.
Here are seven small items to keep in your handbag for creating spontaneous bursts of magic. And you could go out and buy them all right now for less than a tenner.
Bubbles
"Blowing bubbles" was one of the prompts for #radicalselflovejuly. I picked up this little bottle at an off license for 50p and have been carrying them in my purse ever since. I pull it out to blow bubbles when I'm walking down the street, sitting in the park, hanging out in a beer garden, or even just dancing in my room. It's amazing to watch the joy that lights up people's faces when they see bubbles floating past. The simplest magic.
Travel Candle
For making spontaneous picnics, park dates, or an afternoon drink by the canal instantly more romantic.
Confetti
For throwing in celebration, blowing into the camera, tucking into envelopes, hiding in newspapers, and leaving a glittery trail in your wake.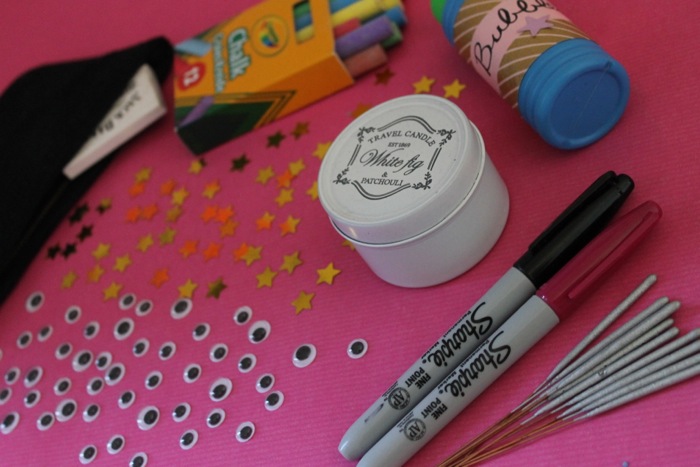 Sharpies
For scrawling encouraging messages on park benches, joining the conversation on the walls of bathroom stalls, writing love letters on your arms, and leaving your mark on the world.
Colourful chalk
If permanent graffiti is too rebellious for you, leave positive messages on the sidewalk to make passersby smile (I wrote this one in July) or have an impromptu drawing session with your friends.
Sparklers
For spontaneous celebrations, lighting up cupcakes, spelling your name in the dark, and waving around with absolute glee just because you can.
Googley Eyes
For pulling silly faces, defacing offensive ads, dressing up condiment bottles, giving your tattoos a humourous twist, and adding life your doodles (see Chloe Rice for lots on inspiration).
What's your favourite way to make your life a little bit more magical?
Yours in everyday magic,



Blogwarts is an 8-week course and lifetime community for heroines in training who tire of living vicariously through fiction and want to burst their dreams into reality. It is hosted by Xandra from Heroine Training.
You found a Blogwarts telescope! Tweet a link to this page to @missxandrabee, and find the other 7 objects to receive a 20% discount on admission. Apply now to reserve your place, and the discount can be applied at any time.