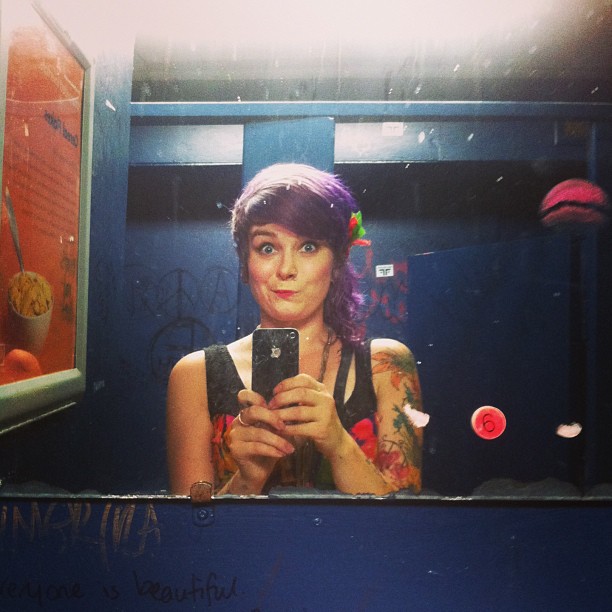 There are so many wonderful things about blogging, but one of my favourites is the community and connections it fosters between talented, creative people around the world. I love how supportive the blogosphere it is, how we rally around our fellow bloggers and cheer each other on.
I'm happy and humbled that the ever-wonderful Angie nominated me for The Liebster Award! This is my first blog award so, from the bottom of my heart, thank you, thank you, thank you!
Here's how it works…
The Rule List
1. List 11 facts about yourself.
2. Answer the 11 questions given to you.
3. Create 11 new questions for the bloggers you nominate for the award.
4. Choose 11 bloggers with 200 or less followers to nominate.
5. Go to each bloggers page and let them know about the award.
6. Thank the person who nominated you and link back to their blog.
So, here it goes…
1. I dyed my hair pink for the first time when I was 14 and earned the nickname 'Pinkerton.'
2. My favourite cocktail is a Manhattan, followed closely by a spicy bloody mary.
3. I have a paralyzing fear of heights, but I'm determined to face it at every opportunity. Once this meant taking a gondola up the side of a mountain and another it was peering over the observation deck of the Empire State Building.
4. When I was 19, I stripped and shimmied my way through a burlesque performance at a local Gay Pride fundraiser.
5. For most of my childhood, I wanted to be an Olympic horseback rider. Through most of high school I thought I'd become a large animal vet.
6. I made my first magazine with a friend in the third grade. It was called Star Gravy and was mostly ravings about our favourite celebrities (hello Hanson brothers and Larissa Oleynik).
7. My favourite book is Jitterbug Perfume by Tom Robbins.
8. I never remember all of the words to a song and I insist on singing along anyway.
9. I loathe onions in almost all forms (except onion rings and in Indian food) and I'm really starting to doubt I'll "grow out of it."
10. PeeWee's Playhouse was my favourite show growing up until the dentist episode terrified me and I refused to watch it until I was a teenager.
11. The smell of freshly cut hay is probably my favourite scent.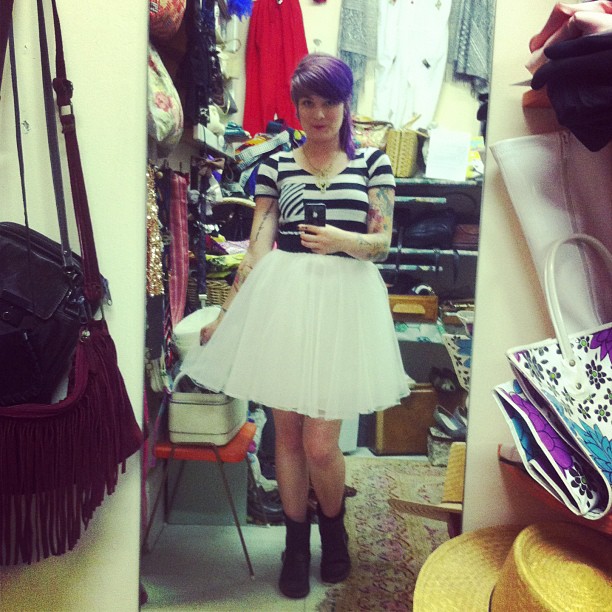 1. Which animal are you most like?Probably a cat. I'm affectionate and extremely social, but fiercely independent. I always do things my own way.
2. Do you have any body mods, such as a cool piercing or tattoo? Something else? 
When I was younger, I had 
a lot 
of piercings, including two on each lobe, my rook, the bridge of my nose, my vertical labret, both nipples, and two on my belly button. Now, I just have my lobes stretched to 3/4″ and a piercing in my right nostril. I also have an ever-growing collection of tattoos – I think I have 15 or so.
3. If you like Harry Potter, which Hogwarts house would you be in? If you don't like Harry Potter, which fantasy realm would you live in? 
I've always fancied myself a Gryffindor, but perhaps I'm really more of a Ravenclaw since I'm a nerdy, book-loving type.
4. What's a little known fact about you? 
I can kiss my own foot – a feat I've been quite proud of since a young age.
5. What is one of your little luxuries in life? 
A piping hot cappuccino from one of my favourite coffee shops. I love everything about it – the heady smell of coffee; its bold taste layered with the sweet, frothy milk; the warm mug in my hands; the ritual of slowly sipping it while talking with friends, reading, or writing. It's a little slice of bliss.
6. Do you have a favourite element? (Earth, Wind, Fire, Air, Spirit?) 
I feel most connected to spirit – a sort of otherworldly connection where intuition and inner guidance comes from.
7. What are three of your soul words? (Words that touch your soul.) 
Ecstastic. Audacious. Whimsical.
8. What is something you'd LOVE to do, but have held back on doing? 
I'd love to have all of my professional branding finished and my online portfolio built, but it's something I've been procrastinating about big time. I've set myself a deadline of having it finished before I leave for England.
9. What is one book EVERYONE should read, at least once? 
The Power of Now
by Eckhart Tolle. It's an incredible guide to spiritual awakening, personal development, and global transformation – really, it's incredibly powerful.
10. What is your life motto, or favorite quote? 
Live on purpose.
11. What is your favorite holiday (and Sabbat, if you celebrate them!) 
Christmas. It's not a religious celebration for my family, but it was always the most magical for me growing up and it continues to be a really special tradition.
Here are my questions:
1. What quote inspires you the most?
2. What was the name of your first pet?
3. What was the last thing you made from scratch?
4. Where would you like to go more than anywhere else in the world?
5. What book changed/influenced you more than any other?
6. What do you feel is your biggest accomplishment?
7. What did you want to be when you grew up when you were in first grade?
8. What's your most prized possession?
9. What's your biggest, wildest, scariest dream?
10. What do you want to be when you "grow up" now?
11. If you had to wear the same outfit for the rest of your life, what would it be?
I'm nominating
Emma
,
Midge
,
Lisette
,
Cazz
,
Chantal
,
Jennifer
, 
Mariëlle
,
Erin
,
Stephanie
,
Crissy
, and
Allison
. I tried to avoid double nominating someone Angie already mentioned, but I haven't stuck
too
closely to the 200 followers rule because, who am I kidding? I suck at rules. ;) They're all super rad blogger babes who I admire and think you should check out right 
now
.