"The beet is the most intense of vegetables. The radish, admittedly, is more feverish, but the fire of the radish is a cold fire, the fire of discontent not of passion. Tomatoes are lusty enough, yet there runs through tomatoes an undercurrent of frivolity. Beets are deadly serious.
Slavic peoples get their physical characteristics from potatoes, their smoldering inquietude from radishes, their seriousness from beets.
The beet is the melancholy vegetable, the one most willing to suffer. You can't squeeze blood out of a turnip…
The beet is the murderer returned to the scene of the crime. The beet is what happens when the cherry finishes with the carrot. The beet is the ancient ancestor of the autumn moon, bearded, buried, all but fossilized; the dark green sails of the grounded moon-boat stitched with veins of primordial plasma; the kite string that once connected the moon to the Earth now a muddy whisker drilling desperately for rubies.
The beet was Rasputin's favorite vegetable. You could see it in his eyes."               –          Tom Robbins
When I hosted my blogiversary giveaway and asked you what you'd like to see more of, a lot of people asked for recipes of the delicious veggie (and mostly healthy) food I like to eat.
Well, ask and you shall receive! And today's recipe is an especially good one.
I rediscovered my love of beetroot when I read Jitterbug Perfume in 2008 and I've been obsessed ever since.
I often get into food ruts – eating the same meals week after week because it's easier when I'm pressed for time and trying to eat on a budget. But lately I've been craving new flavour combinations and itching to try new recipes. So when I saw a recipe for beetroot and halloumi burgers, I decided to make it my own by adding fresh mint for a fresh, zingy flavour to accompany the earthy beets and salty cheese. The result was absolutely delicious.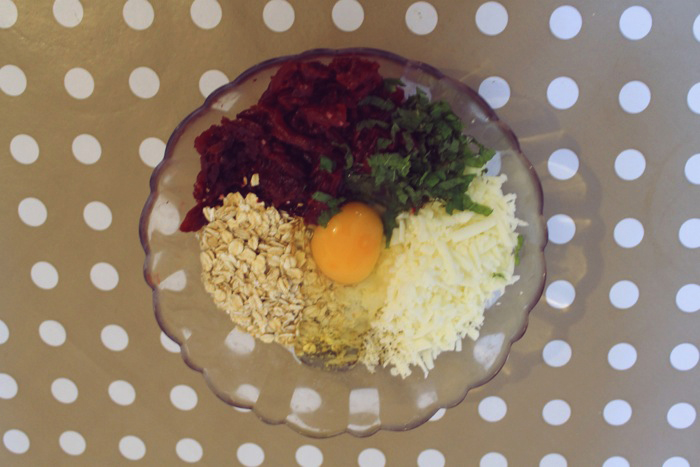 Beetroot and Halloumi Burgers
Adapted from Wanderlusting
3 small steamed beets, grated
125g (half a block) of halloumi, grated
half a cup of quick cook oats
1 large egg, beaten
10 mint leaves, finely chopped
1 clove of garlic, minced
salt and pepper to taste
olive oil (for frying)
Mix all of the ingredients, except for the olive oil, in a bowl.
Divide the mixture into four and form into patties. Set them on a plate and put them in a fridge for at least 30 minutes.
After 30 minutes, lightly line the bottom of a frying with olive oil and place over medium heat.
Fry patties until golden brown and then flip. Approximately 3-4 minutes per side.
These burgers are great on a bun with all of the traditional fixings, but I loved them even more on a bed of lettuce topped with smashed avocado and served with a side of roasted sweet potato fries. Mega yum!
Now I can't wait to concoct all sorts of other burger recipes. Sweet potato, cheddar, & jalapeno. Chipotle, chickpea, & kale. Mushroom, walnut, & sage. The possibilities are endless!
What's in your favourite burger?
Let me know if you decide to give these ones a try!
Love & foodgasms,