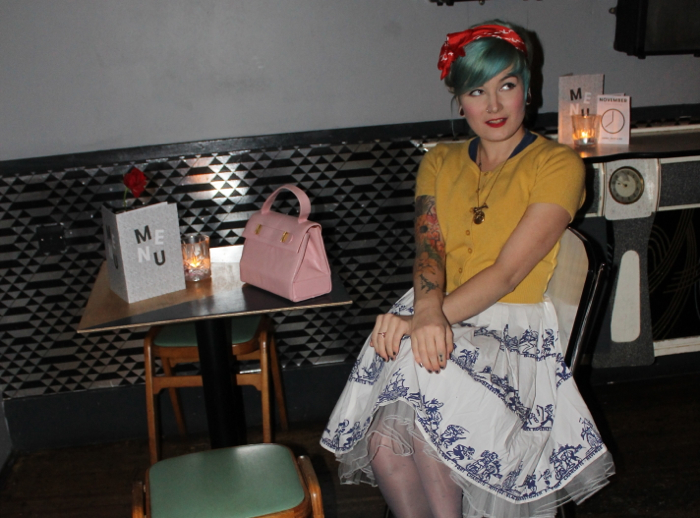 Do you actually work full-time as a writer?
I worked as a freelance writer full-time for a year and a half, between leaving my job as a magazine editor and moving to London. I now work in communications, marketing, and administration at a charity in East London. I do some freelance writing in my free-time – mostly copywriting for small businesses, artists, and entrepreneurs and lifestyle editorial pieces for a handful of publications.
Who does your hair?
Usually, the first time I do a colour change, I get it done at a salon and them maintain it at home.
When I'm in London, Ontario Lana at The Chop Shoppe cuts my hair; in Toronto, Kay at Flaunt Boutique, and in London, England, Emma at Rockalily Cuts.
What colour of purple did you use on your hair?
I had been using a combination of Punky Colors' Purple and Violet, with Special Effects' Pimpin' Purple. In September I had my hair professionally coloured for a hair show with a base of Pravana Vivids in Violet (with Wild Orchid & Magenta+Silver highlights).
What colour do you use on your hair now?
I used Washed Up Mermaid by Bleach London to dye my hair turquoise and lately I've been diluting it with 50% conditioner so that it's more mint green than a vibrant blue/green.
Who designed your header?
My header features custom calligraphy by the seriously talented Sara Moulton, with some minor editing in Photoshop by me.
Who is your tattoo artist?
My first small pieces were done in London, Ontario by an artist, J.R., who is no longer working. My floral sleeve was done out of Mikey Lavender's private studio in Ajax, Ontario. The teacup on my arm was done by Joel Pin. My ship, anchor, and the London lady were done by Iris Lys. The text on my inner bicep was done by Mike at New Tribe Tattoo. The gramophone was done by Melanie at Hanger 18. The rose on the inside of my wrist was done by Zach at True Love Tattoos. My chest piece is by Jessi James at Black Rabbit Tattoo. The rose and bee on my knee were done by Cassandra Frances at Black Garden Tattoo.
Is there something you'd like to know that isn't answered on this page? Just ask!