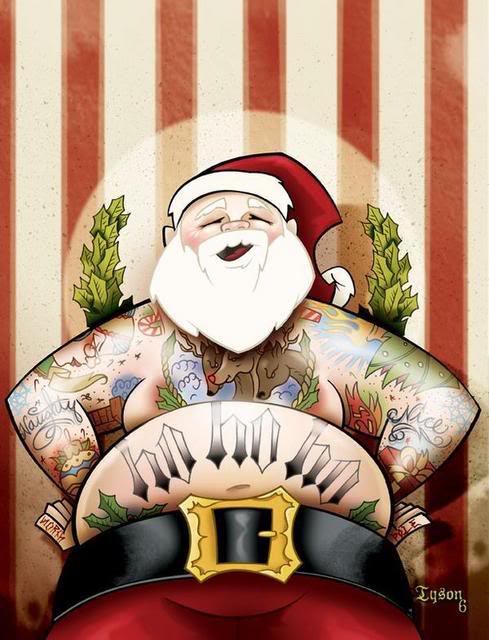 Since Christmas shopping season is upon us, I thought I'd do something a little different for this week's Tattoo Talk. Here's my roundup of perfect gifts for tattooed babes and those who love them.
1) Of course the number one thing on any tattooed person's list in a new tattoo, so pick up a voucher to their favourite shop and contribute to their next piece of art.
2) While you're at it, pick up Forever Ink Balm and Shield, to keep their new work looking fresh for years to come.
3) Mamas Gun Co. sells t-shirts, prints, books, and tote bags designed by some of the UK's most talented tattooists.
4) Give the gift that keeps on giving with a subscription to their favourite tattoo magazine. I recommend Things & Ink.
5) For the non-committal, Etsy is full of pretty, temporary tattoos. I quite like this animal set, or visit Tattly for design geek ink.
6) An iPhone case with a tattooed Disney princess.
7) A tattoo print dress for shimmying around the dance floor.
8) And a matching bow tie for her date.
9) The perfect onesie for the baby with tattooed parents.
10) Bete Noire jewelry has a decidedly tattooed vibe.
11) A t-shirt featuring one of Ella Masters's bearded dudes is perfect for any tattoo lover.
12) A cheeky hip flask featuring a tattooed vampire Audrey.
13) I've mentioned it before, but Forever The New Tattoo is perfect for anyone interested in learning more about contemporary tattooing.
14) Piratey tights for pretending you have more tattoos than you do.
15) Plugs with a traditional tattoo motif.
Do you have any tattoo-related items on your list? I'd love to know if there's anything you think I should add!