Lynsay Neil, 28, Writer and blogger
Lynsay writes the fabulous lifestyle blog, Miss West End Girl, a glittery survival guide to living with style in Glasgow. She shares my penchant for wearing sparkly animal ears and has a growing collection of colourful tattoos that she's sharing with us today. To keep up with her adventures, be sure to follow her on Instagram and Twitter as well.

How old were you when you got your first tattoo? What was it?
I was 19 when I got my first tattoo – full stocking seams topped with bows on the backs of both legs! Go big or go home, right?! I'm a huge fan of vintage/ pin-up  and burlesque style and and I wanted my first tattoo to be a celebration of that. My body was shocked at how it felt (FYI – getting the backs of your knees tattooed? Not fun!). But I was THRILLED at the result afterwards and it's still one of my very favourites. It's also my only black and grey tattoo as after getting my seams I dived headfirst into bright colours and never looked back.
How many tattoos do you have now?
In total I have 14 tattoos (I count my stocking seams as one tattoo). Being rather pale and a sucker for all things kitsch, I love to get vivid, cute pieces. The majority of my tattoos are on my arms, where you'll find a vintage-style perfume bottle, a sugar skull, pink leopard print, a lipstick, some candy hearts and a Russian doll – to name a few! With plenty of space for new work, I'm looking forward to what I can dream up for the future designs too!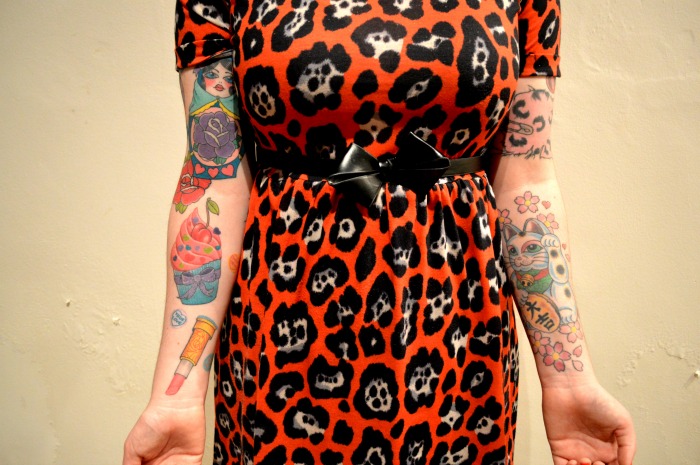 What are your thoughts on tattoo regret? Have you ever had any?
I think that regret is a natural feeling for most people after making a big decision like getting tattooed. Luckily, I've avoided any kind of regret so far by planning each piece carefully and selecting my artist based on their style and ability. I think getting tattooed is a massive investment and that you almost always 'get what you pay for'! When I think of an idea for a tattoo, I tend to sit on it for a little while. Later, I go back to it and, if I'm still in love with it, I see about booking an appointment and planning the details.
Do you think tattoos need to have a special meaning or can they be purely aesthetic?
My tattoos are mostly cute, colourful pieces and are of things that I like! Sometimes people will ask me questions about my tattoos like "why did you get a lipstick on your wrist? What does it symbolise?", and I'll need to break it to them that there isn't a deep meaning behind it and that I just like lipstick! Not really the Miami Ink-style story they were hoping for I guess! I like to think of my tattoos as a representation of me as a person, but they are mainly there for aesthetic purposes! I have two pieces that I got as matching tattoos with my boyfriend on our five and ten year anniversaries - one is a swallow and the other a heart-shaped  locket – they are the only ones that really have any sort of special meaning behind them! I think that it's perfectly fine to have purely pretty tattoos and it's equally acceptable to get tattooed to mark a memory or milestone.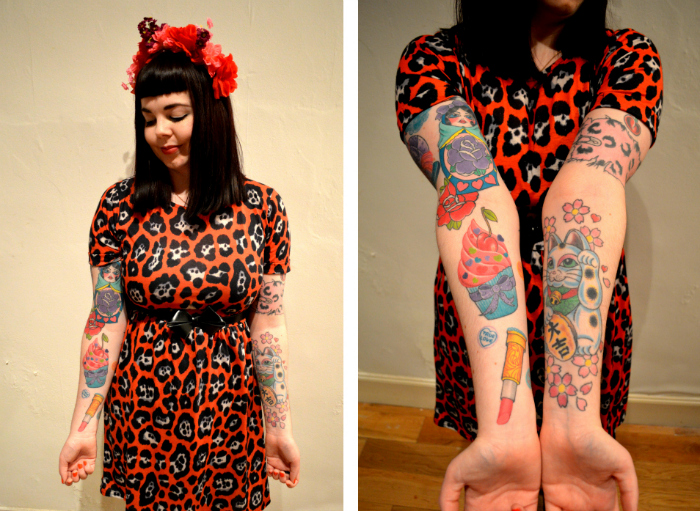 Do you have a favourite tattoo? What's the story behind it?
Aaaarrgh! It's REALLY hard for me to choose just one because I adore all of them! I have a pink leopard print bandage with a safety pin on my arm; that was my second ever tattoo and I still dig it as much now as I did all those years ago when I got it. As well as reflecting my (insatiable) passion for pink leopard print, it's also a nod to my love of rock n' roll and ever so slightly a tribute to one of my favourite bands – Backyard Babies – who had a record called Safety Pin & Leopard Skin.
Are there any artists you're yearning to get work from?
Thanks to the wonders of social media (I'm lookin' at YOU, Instagram!) and the introduction of incredible publications like Things and Ink, I'm always discovering amazing new artists that I'd love to meet and get work done by. At the moment, I'm seriously crushing on Leah Moule's bright, kawaii pieces – and if money (or distance!) wasn't an option I'd hop on a plane to visit Trailer Trash Tattoo!
Thanks, Lynsay! I love how much of your personality and aesthetic is expressed through your tattoos. I can't wait to see what you add to your collection in the future!