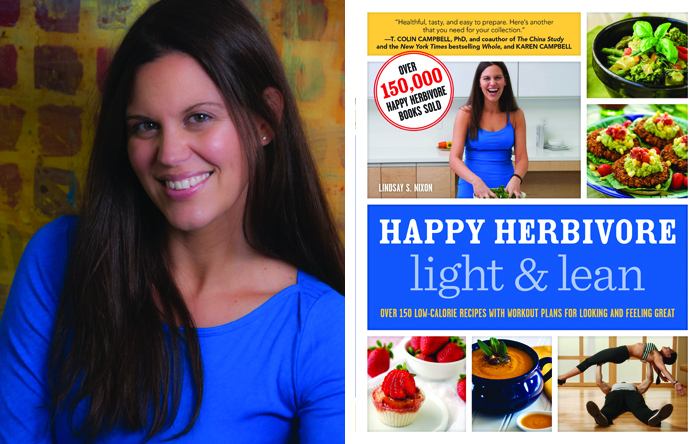 Welcome to the newest feature on The Laughing Medusa, The Inspiration Interviews. Through this series, we'll get to hear from inspiring X who and that wonderful adventures await those who aren't afraid to chase their dreams.
To kick off the series, I'm so glad to have Lindsay Nixon here as part of her pre-release blog hop book tour. I've been following her blog (and devouring her delicious recipes!) for over five years now. Her first cookbook, The Happy Herbivore, is my go-to when I'm looking for a healthy, easy, and delicious meal. If you're looking to incorporate more plant-based foods into your diet, I highly recommend Lindsay's recipes. Plus, they have the added bonus of being low fat and made from simple, 'everyday' ingredients. Lindsay has an inspiring story to share, moving from lawyer to self-made cookbook author in order to pursue her passion and make the world a healthier place. Plus, she's even sharing one of the recipes from her new cookbook, Light & Lean with us today. 
What did you want to be when you were young? What unconventional career path brought you from there to here?
When I was very young I wanted to be a veterinarian because I assumed that meant I got to play with animals all day. As I got older I leaned more towards becoming a doctor and then a lawyer. Both of those careers were attractive to me because I had this deep desire to help people and saw those careers as a way to do it. My parents will tell you they thought I was going to grow up and be a writer because I loved writing short stories and poems as a child (I also had a very active imagination!). I ended up becoming a lawyer, and a lawyer who represented doctors and hospitals no less! Although I was truly helping my clients, I never felt satisfied. I just wasn't happy so I eventually left the law to build my company, Happy Herbivore Inc. I get to help people every day AND I get to write! SO I guess my parents were right in the end! (If you want to learn more about my unconventional journey check you my "exit strategy" blog posts on happyherbivore.com or sign-up for the free video series – I go into my own story in the first video).

What inspires you?
People taking steps towards living better. I'm always flattered when my fans tell me I inspire them… because they inspire ME.
What advice would you give to someone looking to transition to a plant-based diet?
Just do it. Make the next thing you put in your mouth a plant food. Take it a meal at a time. Don't worry about Thanksgiving in a month or a wedding next year. Cross that bridge when you come to it. And I promise you'll be fine. Focus right now on the next meal. And get junk out of the house!
How would you sum up your personal philosophy?
Live better.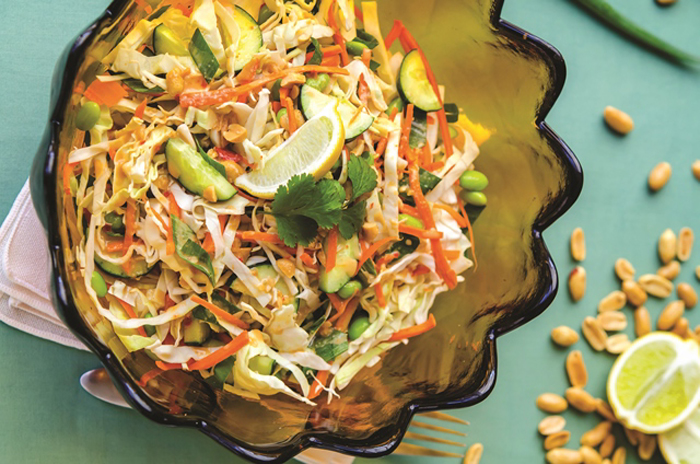 Thai Crunch
Single serving
Gluten-free, Quick, Budget, Single Serving
Before I was plant-based, I loved the Thai Crunch salad at California Pizza Kitchen. I finally decided to re-create a lighter vegan version of it for this cookbook. It's easy, fresh, fast, and satisfying. (I also loved their Original BBQ Chicken Chopped salad, hence my BBQ Salad [in full cookbook] recipe!) By the way, CPK is one of the vegan-friendliest restaurant chains in the US. They have a PDF online indicating which menu items are suitable for vegans and vegetarians.
4 c napa cabbage, red cabbage, or lettuce (or a combination)
1 carrot, julienned
2 green onions, sliced
¼ – ½ c edamame
½ cucumber, sliced or diced
Thai Peanut Dressing
crushed peanuts (optional garnish)
cilantro (optional)
lime wedges (garnish)
Toss cabbage/lettuce, carrot, green onions, edamame, and cucumber together in a salad bowl, then top with Thai Peanut Dressing, crushed peanuts, and cilantro (if using), and garnish with a lime wedge. (I also love squeezing fresh lime juice over the salad.)
Chef's Note: For a soy-free version, substitute chickpeas for the edamame.
(via)
Thai Peanut Dressing
Makes ¼ cup
Gluten-free, Quick, Budget, Pantry
Creamy, delicious—here's a lower fat and lower calorie DIY peanut sauce.
1 tbsp smooth peanut butter
1 tbsp warm water
1 tbsp sweet red chili sauce
juice of 1 lime wedge
2 tsp low-sodium soy sauce or gluten-free tamari
1 ¼ tsp rice vinegar
garlic powder
ground ginger
1–2 drops Asian hot sauce (e.g., Sriracha)
1 tbsp nondairy milk
In a small, microwave-safe bowl, add peanut butter with water, chili sauce, lime juice, soy sauce or tamari, rice vinegar, a few dashes of garlic powder and ground ginger, plus hot sauce. Microwave for 10–20 seconds (so peanut butter is melty), whisk into a sauce, and then whisk in nondairy milk. Taste, adding more hot sauce as desired.
Chef's Note: For a richer sauce, substitute coconut milk for the nondairy.
Thanks so much, Lindsay! I can't wait to try the Thai Crunch Salad; it's right up my alley. If you're already a Happy Herbivore fan, what's your favourite recipe? If not, you've got some serious catching up to do.