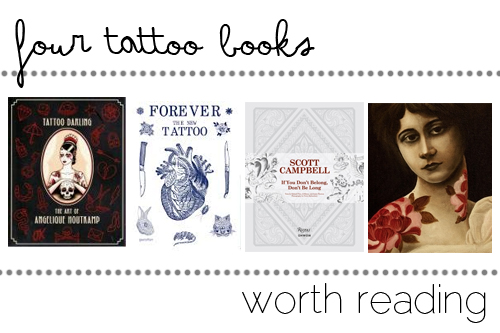 We've chatted about tattoo magazines, and today I thought we could talk about our favourite (non-fiction) tattoo books. Unfortunately I find that, like magazines, many aren't worth the cover price because they're just full of unlicensed images without anything interesting to say about the history or current practices of tattooing. So, I thought I'd share the few gems I've stumbled upon, or that have been recommended to me by friends in the industry.
We've looked at Angelique's amazing work before, and Tattoo Darling: The Art of Angelique Houtkamp gives an in-depth look at her creative process. Her tattoo flash is broken down into step-by-step frames for budding tattoo artists looking to hone their painting skills. But it's also a great resource for any appreciators of Angelique's tattoos or anyone who wants to gain more insight to her unique style through the essays included in the book.
I received Forever: The New Tattoo as a Christmas gift after spotting it in my favourite East London book. It impressed me so much, not just because of it's beautiful design but because it tackles the interesting question of how tattoos evolved from sub-culture to mainstream, and many of the most interesting artists working today are featured on its pages.
Scott Campbell: If You Don't Belong, Don't be Long was the book of choice when I gave my boyfriend a gift certificate to said East London book store for his birthday. He's a tattoo artist, so while I haven't read it myself yet, I do trust his judgment on the matter. If you haven't checked it out yourself yet, Campbell's work artfully blends "new antiquarian" style, nineteenth-century hand-lettering, kitsch, and classic tattoo "flash". And he's as talented with painting and sculpture as he is with skin. Known as a tattoo artist to celebrities like Heath Ledger and Marc Jacobs, this book explores how his fine art and his tattoos are inspired by one another.
The hefty price tag has prevented be from purchasing my own copy of Ladies & Ink: Female Tattooists, but I have had a chance to get a few sneak peaks and it's an absolutely beautiful book. The photographs are absolutely beautiful and it features profiles of more than 100 lady tattooers from around the world.
Do you have a favourite tattoo book to recommend? Perhaps I'll have to start reading some fiction in which tattoos feature prominently for a future roundup.